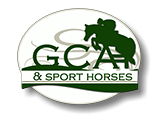 Gainey Cornerstone Arabians & Sport Horses
Evan Almighty, after being named Reserve National Champion Colt in 2009 was taken to the American Warmblood inspection during the fall 2010 where he was a Medalist against pretty stiff competition.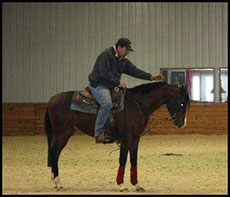 He also did well in Arabian competition, representing HG Esquire+ well by being named Region 15 Top 5 Sport Horse Stallion in Hand with his Amateur handler. Evan Almighty was sold in November 2010 and spent some time in training with Tommy Garland.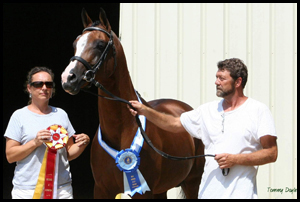 HG Esquire+ was named Reserve Champion Stallion at Dressage at Lexington July 2010. Presented by Tommy Doyle of Willow Hill Equestrian who did a fabulous job. HG Esquire+ was very well received at this Open venue and his quality was openly appreciated by the likes of Mr. Bob Orton. A brief clip during the Championship class.
Hy Wynds was presented at an American Warmblood inspection in North Carolina early May 2010.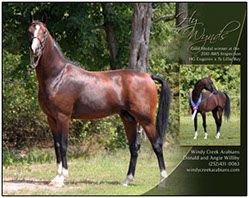 He was awarded the Gold Medal and received Supreme status. Hy Wynds was the first Purebred Arabian to attain this accolade within the AWS organization since it's inception. Hy Wynds is also the sire of the second Purebred Arabian to receive Supreme status with the organization.
2009- HG Esquire+ Sires TWO Reserve National Champions!!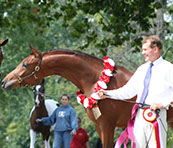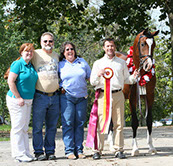 GA E-Khwaytor after being named Reserve Champion Gelding at Sport Horse Nationals was allowed to simply hang out and grow up.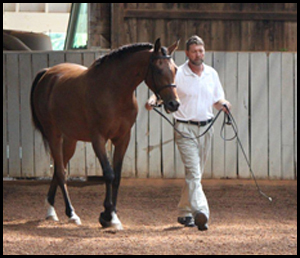 He was presented at the American Warmblood inspection hosted by Willow Hill Equestrian in Gordonsville, VA where although not awarded a medal, received scores high enough to garner Blue Preferred Status and be accepted into their registry. He was sold to Karen S. Morris of PA shortly thereafter where he is now in training at Stone Hollow Sport Horses under the strict guidance of Beth Thomas.
WCA E-Ternal Angell attended the inspection with her full brother Hy Wynds. She also did the family proud by being approved and being named the Bronze Medalist at the inspection.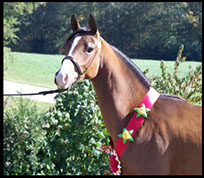 She had not even turned two yet! She traveled with Hy Wynds to the Region 15 show where she was awarded Top 5 Honors being the youngest competitor in her class of 17 nice mares
​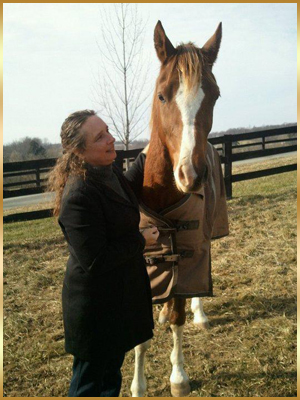 GA Ehstaire (formerly GA E-Lekhtric Pslyde) made the long trip from Ames, Iowa back to Virginia in December (2010) where he started his under saddle work with his owner, Janet Bellows of Cold Spring Farm in Leesburg. Under Janet's thoughtful and careful guidance GA Ehstaire is becoming an upper level Dressage mount proving Arabians "can" and "do"!
HG Esquire+ does it again!!
Siring the 2013 Sport Horse National Champion Filly GA E-Magination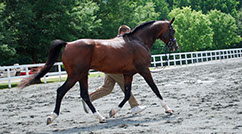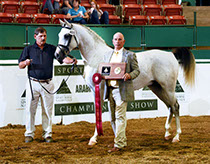 and Top Ten honors for the line bred HG Esquire+ Colt GA Mondavi, sired by Hy Wynds+. GA E-Khwaytor+++/ 2013 Sport Horse National Champion ATR Hunter Hack, Hy Wynds+ 2013 Sport Horse National Top Ten SHIH Stallion-Open & Top Ten SHIH Stallion- ATH,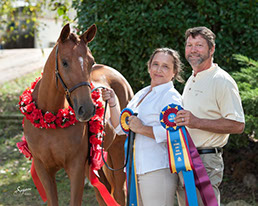 GA Ehstaire 2013 Sport Horse National Top Ten Dressage. Hy Class Affair 2013 SHIH National Top Ten Yearling sired by the HG Esquire+ son, Hy Wynds+.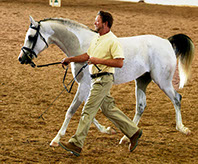 HG Esquire+ kids have success in 2015 at Sport Horse Nationals!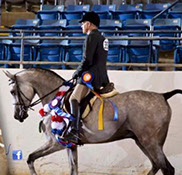 Esquires Cassanova Sport Horse Under Saddle Jr. Horse Top Ten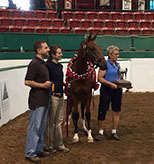 GA E-Khwaytor Champion Hunter Hack AAOTR
GA Eastwood Champion Sport Horse in Hand Yearling HA/AA colts/geldings.